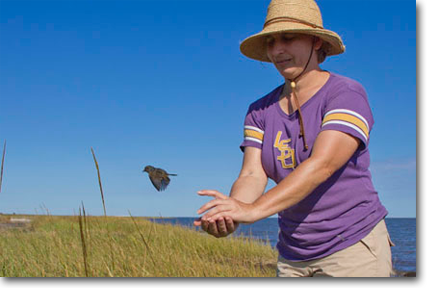 Meet Dr. Sabrina Taylor, one of our many CWC scientitsts. She's an assistant professor in the School of Natural Renewable Resources at Louisiana State University in Baton Rouge where she studies:
population-level genetic structure in threatened species,
historical population structure (using museum DNA),
relationships between genetic variation and fitness in individuals and
genetic aspects of behavioral ecology (inbreeding avoidance, extra-pair paternity).
She is specifically researching the effects of the Deepwater Horizon Oil Spill on seaside sparrows and marsh rice rats. Along with many other CWC colleagues, she is examining Seaside Sparrow reproductive success, population size, and dispersal; altered predator-prey interactions; incorporation of oil into the food web; stress hormone levels; and metabolism of PAHs in Seaside Sparrows and marsh rice rats. To find out more about Dr. Taylor click here.